I just finished up some landscaping. I have no idea what I'm doing, but I'm sure I provide good entertainment for my neighbors. But, I figure I have to learn somehow, so I've been out digging around. To recover from misery, I spent some time doing one of my favorite things - cruising food blogs! When it comes to cooking, I only do simple, easy recipes with normal ingredients that you don't need to go to a special grocery store to find. Here are my 5 favorite blogs for finding good recipes that are easy to make!
1.
Without a doubt, my favorite cooking blog! Easy, tasty recipes, tutorials and fun commentary from Kate and Sara. What's not to love? They always have unique recipes that are fun to make and delicious to eat!
2.
The Hungry Mouse
- Beyond being fabulous for having the same name as me, Jessie makes cooking like Martha Stewart easy and practical. She has recipes for some basic stuff that we eat everyday like potato chips and butter as well as fancier items that will make your friends think you're a major foodie.
3.

If you're looking for healthy recipes, The Sisters Cafe is the place to go. They also have recipes for plenty of sweet treats!
4.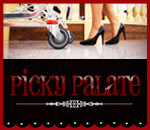 I'm so impressed (and inspired) by Jenny's creativity. She creates most of her own recipes! And, the two little boys she makes those recipes for are adorable.
5.
The Pioneer Woman
- You've most likely already read The Pioneer Woman, but if not, you really need to check out Ree's blog. Even if you don't like cooking, you'll love her hilarious commentary and rockin' photography! If you haven't visited The Pioneer Woman, you may have seen Ree's cookbook gracing the shelves at your local bookstore — yes, her recipes are that good!